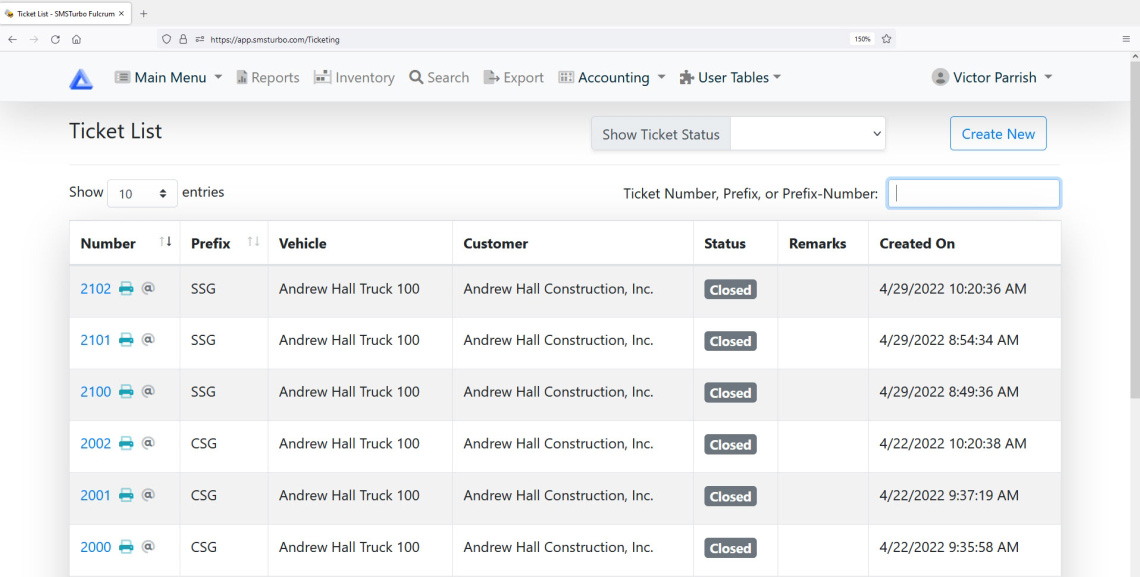 Scale Ticketing Online
Organize and track your scale ticketing transactions in an easy-to-use web interface. Manage vehicles, haulers, customers, materials, and process and print tickets from any web browser.
Click below to learn more.
Manage Customers
Store customers for quick look up during your ticketing process. Maintain basic company information and track customer credit status, so your operator is alerted at the point-of-sale.

Manage Materials
Input your inventory of materials for look up on your ticket screen. Set materials as inbound or outbound materials for proper gross and tare weight capture.
Create Tickets
Add trucks, customers, materials, weights, and quantities. Manage open tickets, void unwanted tickets, and organize completed tickets to be invoiced.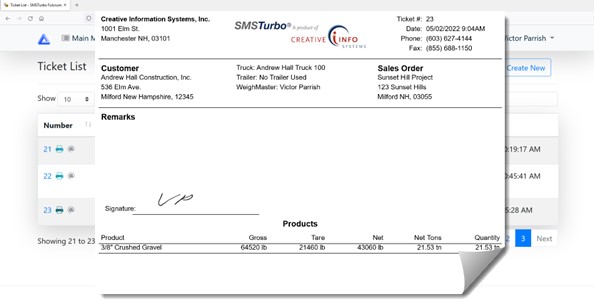 Print Tickets
Print tickets for your customers at your scale house, on the go, or even from your loader. We support thermal receipt printers, laser printers, and any printer that can be printed from Windows or your mobile device.
Integrate with Accounting
SMSTurbo Fulcrum connects to QuickBooks Online for your accounting needs. A QuickBooks account is not included and requires additional purchase.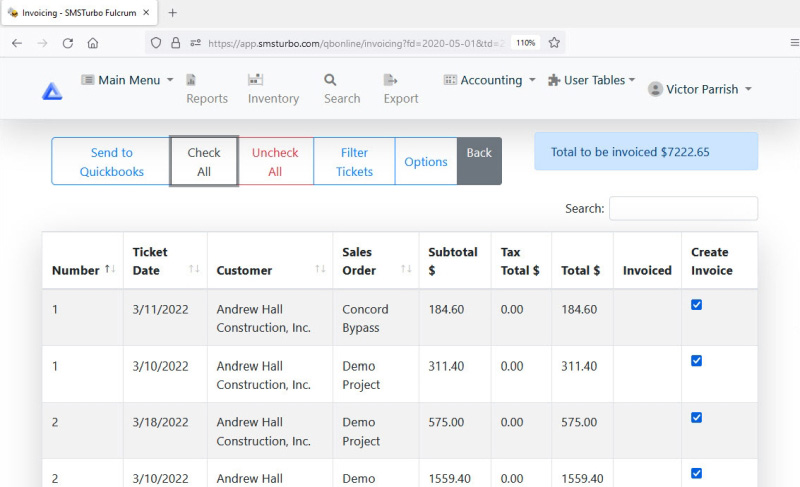 Invoicing and Ticket Export
Export tickets and create invoices to send to your customer. You can select tickets to invoice by client and date range.
Import Customers and Materials
No need to maintain Customers and Materials in two places. Import them both from QuickBooks online directly into Fulcrum.
Reporting
SMSTurbo Fulcrum includes several standard reports for you to monitor your business performance. Run ticket lists, customer usage, and material usage reports. Run reports from anywhere via any device that has Internet access.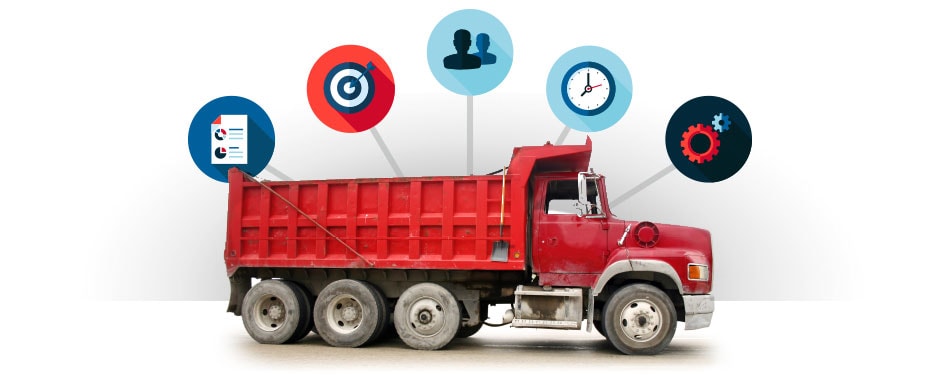 Run From Anywhere on Any Device
Run SMSTurbo Fulcrum from anywhere and on any device that has a web browser and Internet access.
| Feature | Benefit | Tier 1 | Tier 2 | Tier 3 |
| --- | --- | --- | --- | --- |
| Vehicle | Maintain an unlimited list of Vehicles (i.e., Trucks) | Tier | Tier | Tier |
| Trailer | Maintain an unlimited list of Trailers. | Tier | Tier | Tier |
| Customer | Maintain unlimited list of Customers. | Tier | Tier | Tier |
| Sales Order | Maintain an unlimited list of Sales Orders (i.e., Jobs, Orders, Contracts, etc.) | Tier | Tier | Tier |
| Product and Product Categories | Maintain an unlimited list of Product Categories | Tier | Tier | Tier |
| Location | Maintain an unlimited list of Delivery Locations | Tier | Tier | Tier |
| Price Sheets | Maintain an unlimited list of Price sheets. | Tier | Tier | Tier |
| Tax Codes | Tax Code Maintenance | Tier | Tier | Tier |
| Units of Measure (UOM) | Standard Units of measurement included. Create your own as necessary. | Tier | Tier | Tier |
| Escrow (Prepayment) | Take payments from customers in advance and work off a positive balance. | Tier | Tier | Tier |
| User Fields | Create an unlimited number of User Defined Fields in ticketing and Maintenance Records | Tier | Tier | Tier |
| User Tables | Create User Defined Tables for maintaining unique data. | Tier | Tier | Tier |
| Custom Java Script | Customizable Java script to enhance Ticketing or Maintenance | Tier | Tier | Tier |
| Reporting | Includes Base reports: Ticket Form, Ticket Receipt, Cash Rec, Customer Usage, Product Usage, Product Totals, and Ticket List. Custom Report Writing available. | Tier | Tier | Tier |
| Email | Email Tickets to customers, ability to email via custom code | Tier | Tier | Tier |
| Credit Card | Take credit card payments for tickets and Escrow Accounts. Includes tokenization of Credit Cards. Credit Card processing is provided via BlueSnap. | Tier | Tier | Tier |
| ACH Payments | Take ACH payments for tickets and Escrow Accounts. ACH processing is provided via BlueSnap. | Tier | Tier | Tier |
| Image Capture | Capture images from local Webcam/USB or File upload. | Tier | Tier | Tier |
| Signature Capture | Capture signatures on screen or using a Topaz Signature Pad (requires 3rd part browser plugin) | Tier | Tier | Tier |
| Authority Controls | Control what your users can access. | Tier | Tier | Tier |
| Data Backup | Automatic Rolling 7-day database backups | Tier | Tier | Tier |
| QuickBooks Online Connection | Send tickets to QuickBooks online from Fulcrum. Pull customer and product data from QBO to Fulcrum. | Tier | Tier | Tier |
| Fulcrum Device Hub | Allows you to connect directly to local Printers, Network Cameras, and Scale Indicators from Fulcrum. | Tier | Tier | Tier |
| Data Export | Customizable data exports (Specification Required. Development fees apply.) | Tier | Tier | Tier |
| Access to Fulcrum's REST API | Push/pull data from external applications. | Tier | Tier | Tier |
| Inventory Management | Maintain unlimited Storage Units (i.e., Piles, Bins, Silos, Containers) and track inventory per unit. Adjust Inventory manually or from Ticketing and review the Adjustments Journal. | Tier | Tier | Tier |
| Custom User Pages | Customized pages/forms for your specific requirements. (Specification Required. Development fees apply.) | Tier | Tier | Tier |